Destination Smiles – San Jose, CA
Welcome to
Destination Smiles
Destination Smiles merges compassionate pediatric dentistry with state-of-the-art technology to create exceptional dental experiences for children.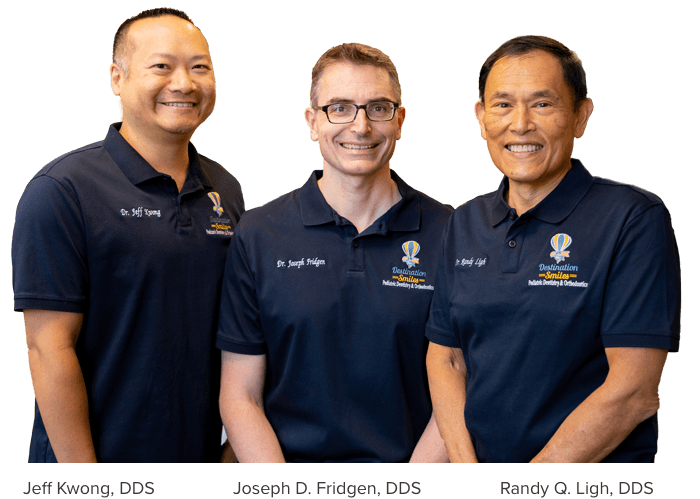 Our Mission.
Your Child's Health.
Welcome to Destination Smiles, conveniently located near Naglee Ave & N Bascom Ave. Here, our professionals know that dental
health is not just about white smiles: it's about building habits that support a lifetime of strong teeth and healthy gums. Our
doctors and staff are passionate about providing our little patients with painless, compassionate, and friendly dental care.
Kid Friendly Approach to Dental Care
A child's first visit to the dentist should be not only enjoyable but a time to learn healthy habits. Destination Smiles' goal is to create a safe, comfortable, and fun experience for your child. Our gentle doctors and friendly staff are mindful that your child may be anxious when visiting the dentist. That's why we take the time to explain everything that's going on in a way your little one can understand.
#DestinationSmiles
is Trending!
Stay up to date with us as we make an impact on our community.
Comprehensive Children's Dental Care
Are you looking for the perfect pediatric dentist? From preventative care to fillings, frenectomies, orthodontics, emergency care, and more, Destination Smiles is ready to help! Our experienced team of doctors and technicians are prepared to provide almost any dental service your little one may need.
San Jose Frenectomies
Frenectomies are an essential part of Dr. Randy Ligh's expertise. Whether fostering a great bonding experience between a new mother and her infant during breastfeeding or helping an orthodontic patient make sure their newly straight front teeth stay that way. If you have questions about frenectomies, please give us a call; we're always happy to help!
Orthodontics for Everyone
A beautifully-aligned natural smile can be obtained both with traditional metal braces and other more subtle options like Invisalign® "invisible" orthodontics. Please contact us today for a free orthodontic consultation!​
No Insurance?
We Can Help!
---
Join Destination Smiles Membership Club*
and get your child's preventive care for a low monthly subscription fee!
*does not included Orthodontics

Beyond Comfort
"You guys are awesome! I have tried couple of dentist before you and they could not do any procedure with my 6yrs son. But you guys did it so smoothly. Thank you so much to the whole team. you are the best."
-Susmita N.
Your Health & Safety is Our Priority
COVID-19 OFFICE PROTOCOLS
We already exceed sterilization standards, including eliminating virtually all infectious viruses and bacteria.
Dr. Joseph Fridgen and his associates love their patients and have a genuine concern for their health and safety as well as for the San Jose community. As a result, they've created advanced safety measures to keep you and your family safe during your dental procedures and office visits which include clean rooms, air filtration, PPE for our team members, and hand sanitizer.